Rainforest Publications' has a great new guide for Colombia: a foldout pocket field guide to the mammals you will see.
Colombia is considered one of the 12 megadiverse countries and ranks sixth globally and fourth in the Americas for mammal richness.


Rainforest Publications' Fold-Out Field Guides are designed to slip into your pocket so that you can easily access our field guides and identify the critters you see while on your walks, hikes, and excursions through Colombia. The fold out pocket guides are approximately 24" by 8.75" (61 cm by 22 cm) when spread flat, and contain twelve 9 cm by 22 cm "pages" plus a front and back cover pages. When folded, they are only approx. 3.5" by 8.75" (9 cm by 22 cm) and easily fit into your pocket.
fold-out pocket
field guide for
Colombia
Mammals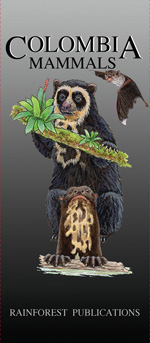 $7.95
978-09979018-7-0
Colombia Mammals
Colombia's mammal diversity is ranked fourth in the Americas and sixth in the World. As of this writing there are 526 mammal species recorded in the country. The Rainforest Publications foldout pocket field guide to Colombia Mammals includes 110 terrestrial, aquatic, and aereal mammals.
The beautifully detailed illustrations by Mark Wainright include notations for mammal size and track and the IUCN Threat Status along with the name of the mammal in Engish, Latin, and Spanish.
Scientific Authority - PhD. Hector E. Ramírez-Chaves.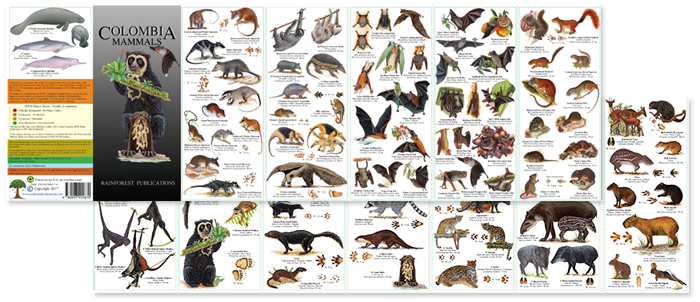 Rainforest Publications' field guide to the Mammals of Colombia - showing both sides flattened. Folds up to fit in your pocket


Shipping and Handling (S&H)
The cost of standard S&H can be calculated by viewing your shopping cart & entering your zip code. If you want your guides faster, you can change the method from standard to express during check out.

We reserve the right to adjust the S&H cost up (or down) for large orders. We ship to most international destinations. If your order does not include S&H because it is to an international destination outside our predefined zones, we reserve the right to add S&H or to issue you a refund if we do not ship to that destination (we'll email you first if an adjustment is necessary, we may have a distributor in your area).

International shipments cannot be insured or tracked unless shipped Express Mail per US Post Office Policy.




All major credit cards are accepted. The PayPal system is used for online purchases but a PayPal account is optional.

Wholesale prices are available for larger orders.