fold-out pocket
field guide for
Guatemala
Pacific Slope Birds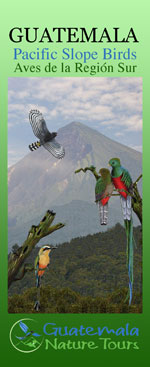 $7.95
1888538-18-X
Rainforest Publications is developing a set of high quality field guides for Guatemala.
Our fold-out pocket guide to the birds of Guatemala's Pacific slope includes beautifully detailed descriptions of all the bird species you will see, plus a map that includes habitat types, hiking trails, bird watching locations, and more.
Some of the bird watching locations listed are:
Cayala Ecological Park
Muxbal Scout Camp
Finca San Santiago
San Juan La Laguna
Los Tarrales
Fuentes Georginas
Monterrico Nature Reserve
El Astillero lo de China
Rio Escondido
Quetzal Biotope
Ram-Tzul
Rainforest Publications' Fold-Out Field Guides are designed to slip into your pocket so that you can easily access it and identify the critters you see while on your walks, hikes, and excursions through Guatemala.
The fold out pocket guides are approximately 24" by 8.75" (61 cm by 22 cm) when spread flat, and contain twelve 9 cm by 22 cm "pages" plus a front and back cover pages. When folded, they are only approx. 3.5" by 8.75" (9 cm by 22 cm) and easily fit into your pocket.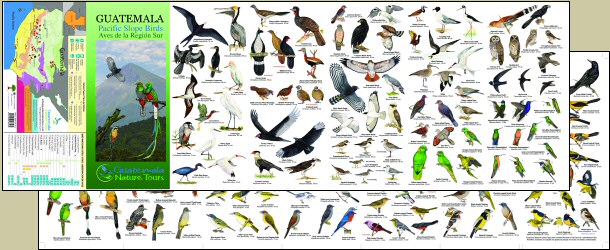 Rainforest Publications' Guatemala Pacific slope birds field guide
fold-out pocket field guide laid flat

$7.95

978-0-9979018-8-7

NEW

Interested in Latin American Herbs, Spices, and Medicinal Plants?
We have a new pocket field guide you can take with you - it covers the herbs, spices, and medicinal plants. Take a look at the inside to see all the interesting, full-color, highly-detailed, scientifically illustrations by Enrique C. Leal. As with almost all our guides, it is printed in both English and Spanish. Each illustration is accompanied by the name of the plant in English, Spanish, the scientific name of the species, and the family.
Rainforest Publications' fold-out pocket field guide to the Herbs, Spices, and Medicinal Plants of Latin America includes 100 herbs and spices ranging from the familiar to the exotic. While many herbs and spices have medicinal uses, this guide is not intended to be used as self-treatment for illnesses.
Spices and herbs played a dramatic role in the development of Western civilization. Spices today are plentiful and are used mostly as flavorings. However, in ancient and medieval times they were rare and precious products, used for medicine, perfume, incense, and flavoring.
Buy our guide and read a little more and enjoy the illustrations and your trip a little more. They pack easy. Our guides are also great reminders of your adventures and last for many years.
This is a regional guide. You can take it with you on your travels to Mexico, Costa Rica, Belize, Panama, and any of the Latin American countries.
This is a regional guide. You can also take it along on your trips into Costa Rica, Belize, or any of the other Latin American countries.


Shipping and Handling (S&H)
The cost of standard S&H can be calculated by viewing your shopping cart & entering your zip code. If you want your guides faster, you can change the method from standard to express during check out.

We reserve the right to adjust the S&H cost up (or down) for large orders. We ship to most international destinations. If your order does not include S&H because it is to an international destination outside our predefined zones, we reserve the right to add S&H or to issue you a refund if we do not ship to that destination (we'll email you first if an adjustment is necessary, we may have a distributor in your area).

International shipments cannot be insured or tracked unless shipped Express Mail per US Post Office Policy.




All major credit cards are accepted. The PayPal system is used for online purchases but a PayPal account is optional.

Wholesale prices are available for larger orders.