New Guides !
fold-out pocket
field guide for
Galapagos Islands
Birds
two editions available
English/Spanish
Japanese/English


English/Spanish
978-0-9979018-9-4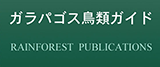 Japanese/English
978-0-9979018-2-5

Going to the Galapagos? Or wish you were? Rainforest Publications has two new pocket field guides which would love to accompany you. Our pocket guides fit into the front pocket of your backpack or tote, and accordion out into 14 panels (counting both sides) of beautifully detailed, full color illustrations of either the birds of the Galapagos Islands, or Galapagos Islands marine life.
The Rainforest Publications Galapagos Islands Birds fold-out pocket guide contains 123 illustrated species (roughly 50-100% more than the competition depending on the medium) and is easier to use in the field. Each bird illustration is accompanied by its name in five languages (English, Spanish, French, German, and Latin), and some notes on size or if the bird is rare or endemic. Take a Look Inside.
Coming Soon!
fold-out pocket
field guide for
Galapagos Islands
Fish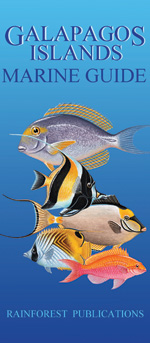 Our illustrator for the Galapagos Bird guide is Robert Dean. His intricate scientifically accurate illustrations are featured in several Rainforest Publication field guides. Robert has been living in Costa Rica since the early 1990s, and expresses his passion for birds through art.
The Galapagos archipelago is one of the most diverse, unique, and scientifically important biological areas on earth.
The islands are home to the highest number of species on earth that are endemic: 80% of the land birds, 97% of the reptiles and land mammals, 30% of the plants, and more than 20% of the marine species including the only penguin in the Northern Hemisphere.
Today the islands are at risk due to a growing human population and the over use of natural resources. There is also the introduction of invasive species, disease, and the effects of global climate change.
Help keep the magic of the Galapagos Islands by donating to the Galapagos Conservancy.
Also travelling to the Ecuador mainland? See our Ecuador Wildlife Guides.