North Atlantic Coast
Marine Mammals & Sea Turtles
Field Guide
1888538-91-0
$5.95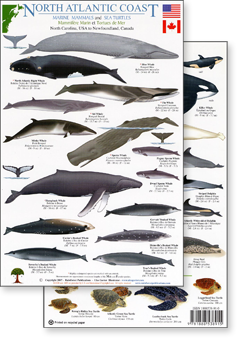 North Atlantic Coast
Marine Mammal Behaviors
Field Guide
1888538-55-4
$5.95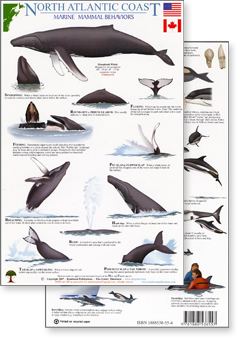 Click on any picture
of a field guide to
view a larger image
in a 'pop up' window.
After numerous requests for a laminated field guide of marine mammals and sea turtles of the Atlantic coast (US & Canada), we are pleased to announce the release of two new Rainforest Publications field guides: North Atlantic marine mammals and sea turtles, and North Atlantic marine mammal behaviors.
North Atlantic Coast, marine mammals and sea turtles
This exciting new laminated field guide is the perfect companion for whale watching along the Atlantic Coast, from Cape Hateras, NC, to the shores of New England, and all the way up to Maritime Provinces and Quebec, Canada. The guide includes 25 whales, dolphins, and porpoises (cetaceans); 4 species of seals; and 5 sea turtles. Approximate maximum lengths are given in meters. Scientific names are given, as well as their English and French-Canadian common names.
The North Atlantic Coast Marine Mammals and Sea Turtles field guide makes a perfect companion guide to the Florida Marine Mammals and Sea Turtles guide. Together the guides cover the entire North American Atlantic coast.
North Atlantic Coast, marine mammal behaviors:
In this new series of field guides, we have depicted and explained specific behavior and interesting features for humpback whales (front side), and Atlantic white-sided dolphins, on the back. Behaviors like lobtailing, breaching, feeding, spyhopping, stranding, and many other features are highlighted on this field guide.
Whale Watching Field Guides
Both of these beautifully illustrated field guides are perfectly suited for whale watching (and seal watching, dolphin watching, and turtle watching) locations along the North America's North Atlantic coast which include (but are not limited to) the following:
United States North Atlantic coast

North Carolina
Delaware
New Jersey
New York
New England
Cape Cod, Massachusetts and other areas along the Massachusetts coast
Maine, including the Gulf of Maine and other areas

Canadian Atlantic coast

Bay of Fundy
Nova Scotia
New Brunswick
Prince Edward Island
Maritime Providences
Saint Lawrence sea way
Quebec
New Foundland
Single Sheet Field Guides
All the single sheet field guides are 7" by 11" (17.85 cm by 28 cm), double-sided, laminated to withstand the elements, and printed on high quality stock with durable UV-resistent inks.
NO Hassle Buying!
All prices include shipping & tax within the U.S.
International Clients: contact us for a quote on international shipping.
Wholesale prices are available for larger orders
The PayPal system is used for online purchases.
You may use a PayPal account or any major credit card
(or see purchasing options).