You can purchase the guides through this web site. We accept Visa, MasterCard, and all other major credit cards via the PayPal system. You do not need a PayPal account to use the system. Buy now buttons are located with the product descriptions. You can also purchase the guides with a check or money order via our convenient order form which works for email or regular mail orders.

Rainforest Publications partners with HML Enterprises and Sunburst Publications to bring you the widest possible range of field guides.


Sunburst Publications handles web sales and distribution of the Hawaii wildlife identification guide series.
HML Enterprises handles web sales and distribution of the California and Pacific Northwest field guides, and the general tropical field guides. HML Enterprises is also the west coast U.S. distributor for all of Rainforest Publications field guides.


Merchants, you may pay Rainforest Publications for special orders using the "Pay Statement" button below.
fill in the total price you were quoted for your order once you get to the PayPal screen;
specify shipping information during the check out process;
the PayPal checkout process also includes the ability to leave a note on the "Review Your Payment" screen. If, for example, you wish to specify your purchase order number or the name of your business if it differs from the name on your PayPal account, simply look for "+note" right below "Rainforest Publications Special Order", click on the "+" and type in your note..
NO Hassle Buying!
All prices include shipping & tax
within the U.S.
International Clients: contact us for a
quote on international shipping.
Wholesale prices are available
for larger orders
The PayPal system is used for online purchases.
You may use a PayPal account or any major credit card.
Our distributor for all other web sales is:


Our distributor for Hawaii Guides is:


Our west coast US distributor is:


In Costa Rica you will find the guides at:


Zona Tropical S.A.
San Jose, Costa Rica
contact: John McCuen or Marc Roegiers
(506) 258-3422
fax: (506) 258-3302
marroca@racsa.co.cr



In Belize you'll find the guides on:


In Mexico

BioSakbé
Calle Nube #50 SM 4
Cancûn, Quintana Roo 77500
Cel. (521) 9981 842780
biosakbe@gmail.com



In Panama:


Panama Tropical Guides
Gift Shop
Hotel Double Tree by Hilton
Via Espana y Avenda Federico Boyd
Tel: (507) 395-9100
Cel: (507) 6602-3440
panamatropic@yahoo.com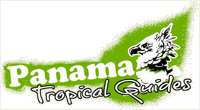 We are looking for a distributor in Peru to sell our field guides. Please contact us if you are interested.