NEW FALL 2012

By request, two new fold-out pocket guides to the flora of Mexico. Both of these guides cover all regions of Mexico, including both the Pacific and the Caribbean coastal regions.



Pocket Guide to the Trees of Mexico

Pocket Guide to the Flowers of Mexico
You can purchase these guides online or from Biosakbé in Cancun: biosakbe@gmail.com
fold-out pocket
field guide for
Flowers
in Mexico
(all regions)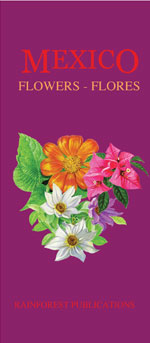 $7.95
978-0-9840107-9-0

NEW SPRING 2012

Caribbean Reef Fish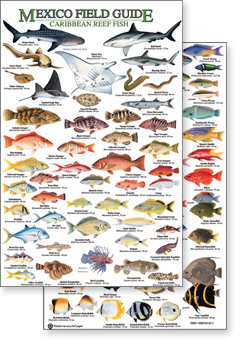 $5.95
978-0-9840107-7-6
Caribbean Sport Fish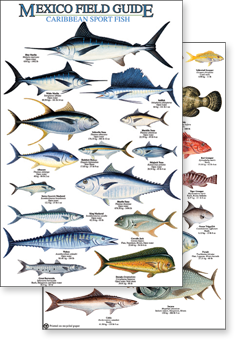 $5.95
978-0-9840107-6-9
Two of our popular marine guides, Reef Fish and Sport Fish guides. Marine guides are 7" by 11" (17.85 cm by 28 cm), printed on both side with UV resistant inks.


Five of our popular foldout guides, Birds, Mammals, Marine, Butterfly, and Tropical Fruit guides. These guides are available for the Mexican Caribbean area: Quintana Roo, Yucatan and Campeche.
Rainforest Publications' Fold-Out Field Guides are designed to slip into your pocket so that you can easily access our field guides and identify the critters you see while on your walk, hikes, and excursions through Mexico's Caribbean region, including the Yucatan, Campeche, and Quintana Roo. See technical specifications for more details on the construction of the guides.
You can purchase these guides online or from Biosakbé in Cancun: biosakbe@gmail.com
fold-out pocket
field guide for
Tropical Fruit
in Mexico's
Caribbean regions
$7.95
978-0-9840107-8-3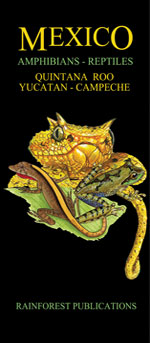 COMING SOON

A Fold-Out Pocket Field Guides to the Amphibians and Reptiles of the Mexican Caribbean regions, including the Yucatan, Campeche, and Quinta Roo regions.