Baja, Sea of Cortez
Sea & Shore Bird Guide
1888538-36-8
$5.95

Baja, Sea of Cortez
Reef Fish Guide
1888538-28-7
$5.95



Baja, Sea of Cortez
Marine Mammal Guide
1888538-39-2
$5.95



Baja, Sea of Cortez
Sport Fish Guide
1888538-34-1
$5.95



Mexico Butterfly Guide


1888538-14-7
$5.95






Want to see a closer view
of a couple of the critters
featured in these guides?

Click on any field guide photo
and look for a 'pop up' window.




The Sea of Cortez is roughly 1,125 km (700 miles) long. Wetland pockets of lagoons, mangroves and salt marshes are plentiful along the peninsular and mainland coastline.
Rainforest Publications has developed five guides for the beach walker, fisherman, diver, or kayaking enthusiast

a beautiful Mexico butterfly guide

a Baja California/Sea of Cortez sea & shore bird guide

a Baja reef fish guide

a Baja sport fish guide

a Baja marine mammal guide.

Everything you could possibly see above or below the waterline you can identify with these guides.
If your plans include visits to any of the following destinations (or those nearby), you will find these guides useful:
Mazatlan
Puerto Vallarta
Ixtapa/Zihuatanejo
Acapulco
Santa Cruz
All the single sheet field guides are 7" by 11" (17.85 cm by 28 cm), double-sided, laminated to withstand the elements, and printed on high quality stock with durable UV-resistent inks.
Also see our what's new page to for additional guides that will be coming soon (hint: more new pocket field guides for flora and fauna in the Yucatan, Campeche, Quintana Roo, Cozumel, and Riviera Maya regions of Mexico).
NO Hassle Buying!
All prices include shipping & tax within the U.S.
International Clients: contact us for a quote on international shipping.
Wholesale prices are available for larger orders
The PayPal system is used for online purchases.
You may use a PayPal account or any major credit card
(or see purchasing options).

NEW FALL 2012

By request, two new fold-out pocket guides to the flora of Mexico. Both of these guides cover all regions of Mexico, including both the Pacific and the Caribbean coastal regions.



Pocket Guide to the Trees of Mexico

Pocket Guide to the Flowers of Mexico
You can purchase these guides online or from Biosakbé in Cancun: biosakbe@gmail.com
fold-out pocket
field guide for
Flowers
in Mexico
(all regions)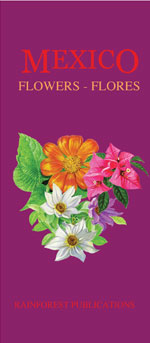 $7.95
978-0-9840107-9-0